Karratha leads property price gains in regional WA, outpacing Perth: REIWA
Source: REIWA
We're starting to see some of the more expensive houses sell, says David Hipworth of LJ Hooker Karratha.
The median house price for regional Western Australia increased 2.9 per cent during the December 2017 quarter, outperforming growth in the Perth metropolitan region.
REIWA president Hayden Groves said eight regional centres experienced positive median house price growth during the quarter.
Karratha was the top performer
Karratha's median house price growth was the strongest recorded in the state, with gains of 13.5 per cent for the quarter.
David Hipworth of LJ Hooker Karratha, told SCHWARTZWILLIAMS, "What we've seen here in Karratha is the houses that have less features and are older have moved, and the movement has been quite strong.
"If prices are going up it's because we're selling some of the more expensive houses," he said.
"Pleasingly, house prices improved across the board, with centres both north and south of Perth are showing positive growth," said Groves.
"Busselton, Albany and Esperance also recorded strong price growth, lifting 9.8 per cent, 7.2 per cent and 6.3 per cent respectively."
"Consumer sentiment in WA improved considerably in the December quarter, up 13.5 per cent which has had a positive flow on effect to the property market. West Australians are feeling more optimistic and buyer enthusiasm is returning," said Groves.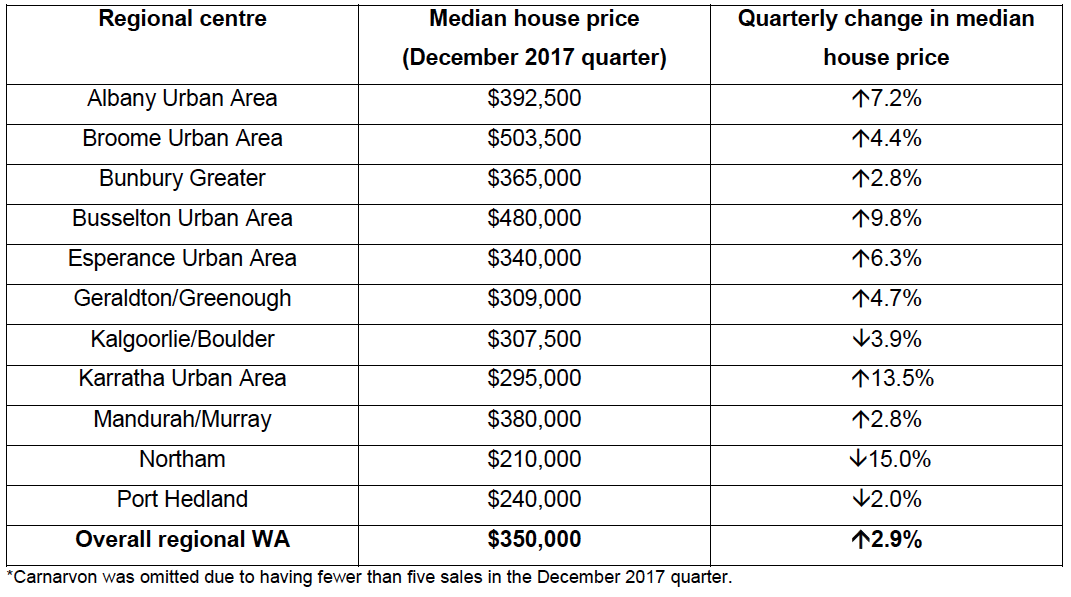 Sales activity
There were 1,191 house sales across regional WA in the December 2017 quarter.
Mr Groves said overall house sales declined in the December quarter, but a few regional centres performed well.
"Regional WA is wide and varied, so it's important to look at the individual markets."
REIWA data shows sales activity in Northam, Karratha and Esperance increased, while volumes in Busselton and Bunbury were stable.
"With the exception of Northam, these regional centres all saw their median house price improve.
"After a challenging couple of years, Karratha, Esperance, Busselton and Bunbury are exhibiting strong signs they are starting to recover," said Groves.
Average selling days
It was 10 days quicker to sell a property in regional Western Australia during the December 2017 quarter than it was in the September 2017 quarter.
"The average time to sell in Kalgoorlie/Boulder reduced by 36 days in the December quarter, while Busselton decreased by 24 days and Mandurah/Murray by 15 days," Groves said.
Port Hedland, Bunbury, and Karratha also experienced reductions in average selling days.
"The market is moving in the right direction," said Groves.
"The signs are there that, like Perth, regional WA has entered the next phase of this property cycle and a number of centres already appear to have started their recovery."
---
Share this article